KPTC Leadership Star Award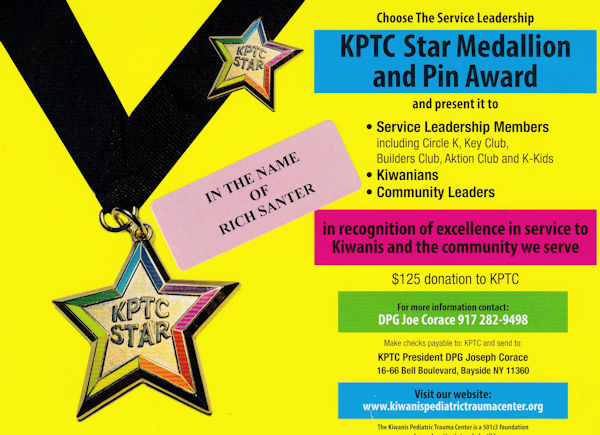 The KPTC Leadership Star Award was created by the late Rich Santer, who served as vice president of the KPTC, and as a lieutenant governor of the Long Island South Central Division. Santer also was the advisor to the KPTC Service Leadership Committee, guiding them in numerous safety training programs and fund raisers.
The Service Leadership Committee has presented safety programs at local schools, libraries and community events. Safety lessons they have taught to young children include hand washing, swimming and water safety, bicycle and helmet safety, fire safety and calling 911 along with others.
The most recent program is the Distracted Driver Simulator, showing the dangers of cell phone use, talking or texting to young drivers.
The Service Leadership Committee is comprised of members of Circle K, Key Club, Builders Clubs, K-Kids and Aktion Clubs. They may purchase the award to honor or recognize their members, faculty advisor, Kiwanians or community members who have served to promote the KPTC Foundation's mission. Kiwanians may also purchase the award and present it to their SLP members.