KPTC Trauma Kits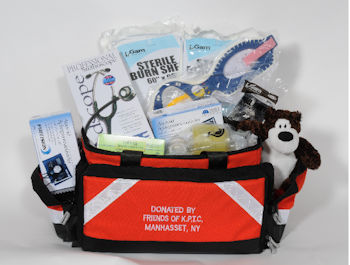 The Kiwanis Pediatric Trauma Kit is a child-sized ambulance equipment kit which was compiled to meet most on-scene emergency needs of children. The kits are donated to fire departments and ambulance services under the auspices of the local Kiwanis clubs in each community.
A typical kit contains special equipment which ambulance personnel may need to properly care for a small child, as well as a stuffed animal for the child.
The ingredients of these kits are child sized and geared for children from infancy to 18 years of age. Since its inceptions, over 250 kits have been donated. As you read the list that follows, if your community is not there, call your local Kiwanis Club or Fire Department. Find out why you are not include in this free, and voluntary program.
You can order a Pediatric Trauma Kit online.